Dr. Peter Wood Lecture
Near Andersonville: Winslow Homer's Civil War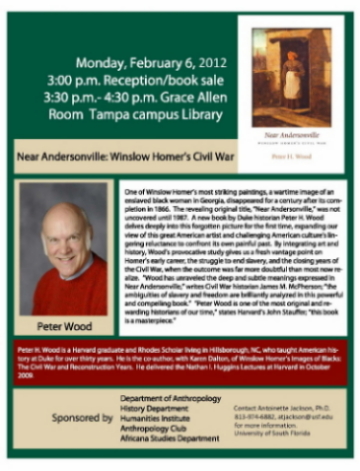 View article on USF website.
Monday, February 6, 2012
-3:00p.m.-3:30p.m. Reception/book sale
-3:30p.m.-4:30p.m. Lecture
USF Library Grace Allen Room.
View flyer for more information.
Thursday, February 9, 2012
-12:30pm  Open House USF Dept. of Anthropology Heritage Research Lab (SOC 6)
-2:00pm-4:00pm  Graduate session (Oral History/research methods workshop/talk) with Dr. Jackson's Research Methods in Applied Anthropology class (SOC 30).  Session open to the History Department and Africana Studies, faculty and students, and other interested students and faculty in the Dept. of Anthropology. Key contact: Antoinette Jackson (Assoc. Prof. USF Dept. of Anthropology).